I was so excited to discover this fabulous book 'Day by Day' by Joanna Griffin, a Psychologist, and parent of a disabled child herself. The book explores what helps, and hinders, parent carers' emotional wellbeing. It is jam-packed with practical guidance, which is backed up with research and lived experience from many parents.
The challenges facing parent carers include the impacts on relationships, family life, access to work and leisure activities, finances and mental health. Often parent carers' own needs are neglected as the focus is solely on their child.
As a counsellor focussed on working with parent carers and parent carer myself, I found myself nodding along to every paragraph! The book is tenderly and thoughtfully written. It's an empowering read, and I can highly recommend it. In this blog, I wanted to share a brief summary with you, and encourage you to buy a copy to read fully if this whet's your appetite.
7 Dimensions of Parent Carer Emotional Wellbeing
Joanna's outlines 7 dimensions of Parent Carer Wellbeing in the acronym 'SPECTRA' . This certainly aligns with what I have also found in my counselling practice working with parent carers, and in the groups that I run for Mums who have children with additional needs. The 7 dimensions of Parent Carer wellbeing are:
S – Sense of Purpose and meaning – Finding something in our lives that is important to us, improves wellbeing and helps to make sense of our lives
P – Positive others –  These are the people or communities in your life that 'have your back'
E – Empowerment – This can be through knowledge and experience of how to be supported by services and also an internal change where you find the voice to assert yourself.
C – Child – New perspectives on our relationship with our child. Seeing through their eyes and gaining a new perspective.
R – Replenish and Recalibrate – A swiss army knife of self-care. An overview of self-care strategies that we can use flexibly.
A – Awareness of emotions and the human condition – Awareness of our emotions informs how we can help ourselves. Acknowledging all emotions, including difficult ones enables us to process them and move on. Ignoring them can lead to a negative build-up that comes out in other ways. Developing emotional literacy to name how we feel is such an important first step.
As I was reading the book in the garden, the light came through the glass table top. It created this rainbow underlining effect on a striking quote from a parent carer about feeling like they are running on empty.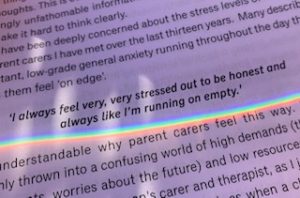 If you want to buy the book, you can support your local bookshop if you buy online at bookshop.org where you can nominate your local bookshop to benefit from the sale. The book is called – Day by Day: Emotional Wellbeing in Parents of Disabled Children, by Joanna Griffin.
Thank you Joanna for so tenderly sharing these insights with us all, and for helping parent carers to acknowledge the importance of emotional wellbeing.