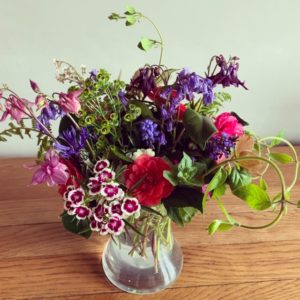 What a strange time we find ourselves in, all staying at home. We're unable to see friends and family and live our lives as we normally do, because of Covid-19. I am so sorry that I am unable to provide counselling in a face to face setting at the moment, especially as it's just the time that many of us need some human contact and connection.
One thing that is emerging is that this lockdown time is very different for everybody. Depending on what our work is, where we live, who we live with, and what our state of health is we are all coping with different situations. There are challenges all around us, and I am sending you all this virtual bunch of flowers.
I don't know when I will be able to return to counselling face to face again, but we are so fortunate that technology has come to the rescue and so many people have taken the plunge into having their therapy online via zoom.
Counselling via Zoom
Research shows that online therapy is as effective as in-person therapy, so I have done a very thorough course in delivering online counselling and I am a convert! Here are just some of the benefits:
You can create a comfortable and private space in your own home from which to attend therapy.
You may find it easy to talk, focus and express yourself in your own environment.
Avoiding travel and parking for an appointment can alleviate stress cost.
For people with disabilities or certain anxieties, working online is more accessible.
You won't be 'seen' going to therapy if privacy is important to you.
We may be able to be more flexible about scheduling as there will not be an issue regarding room availability.
During concerns of Covid19 working remotely prevents the spread of infection.
Research shows that online therapy is as effective as in-person therapy.
I can work with clients who are based anywhere in the UK, as they don't need to travel to meet in person.
If you'd like a little trial run of the technology, I offer a free initial 10 minute consultation, so you can ask to have that on Zoom and see how you get on. For many of us 'Zooming' has become a new regular feature of our lives, suddenly and unexpectedly!
Take care one and all, and I hope to see you all again when it is safe to do so.